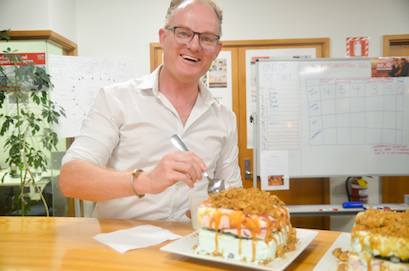 Posted by Graham Dockrill
On January 28, 2018
2 Comments
business, entrepreneur, entrepreneurship, sales, start up, strategy
Recently I accepted the role of 'Entrepreneur in Residence' at the prestigious University of Canterbury Centre for Entrepreneurship (http://www.canterbury.ac.nz/business/uce/about-uce/). This Summer start-up programme is an intensive ten weeks from November to February. Using the Lean Business Model methodology in conjunction with supportive mentoring students experience what it's like starting a new venture by turning their ideas into real businesses. They benefit from engaging workshops and seminars from both staff and local industry. Topics covered by the programme include:
Defining the problem or unmet need
Understanding the customer
Product development
Intellectual property options
Route to market
Finance options
Business plans
Team building and management
While to be successful in business you need education, money and determination ultimately there is one pivotal  ingredient needed to create a successful business…you!
You have to be the catalyst, nothing will come to you while sitting on your sofa.  You've got to go get it.  It's incredibly humbling to watch, as young entrepreneurs come to grips with this reality.  This programme teaches you to be proactive, methodical and strategic.  About halfway through the programme, I stopped referring to the participants as students. As new found knowledge was digested and implemented the students became entrepreneurs.
Inevitably they ask me if I think they have the right make-up to do it. Could they make it as an entrepreneur? I can't help thinking they're asking the wrong question. Frankly, I know the answers to these questions simply because they're asking them. It's a stepping stone to the deeper questions that come next. I'm always excited to hear them thinking about, talking about and asking me about their idea, their dream, their vision.
I can't tell them if they're an entrepreneur or not.  Although, by participating in this programme, my default answer is "you already are". No one can tell you. It's a very personal decision and requires a deep understanding of yourself and what motivates you.
Measures of success are important in business, they're also important on your journey as an entrepreneur in your first start-up.  I've listed the consistent themes to successful entrepreneurship that I've observed below. Having experienced the University of Canterbury Centre for Entrepreneurship firsthand, I can attest to it covering these points very well.   What fascinated me was these themes  apply to every business, regardless of gestation.
There is a lot more business and a lot more selling than you expect. If you can't monetise it, you have no business. That means selling – yourself, your idea, your ability to make it happen. And then selling some more. And when you're tired of the selling, you have to sell even more. Learn to pitch exceptionally well!
Ordinary is surprisingly easy. Ordinary is the enemy of the entrepreneur.
Perseverance, Jay Z (an American rapper and businessman) once said "The genius thing we did was we didn't give up." Its vitally important to learn that success is the by-product, not the driver.
Don't be afraid to make mistakes. Risk aversion cannot live in the same body as the entrepreneur because as entrepreneurs we excel at making mistakes. The difference is that an entrepreneur ensures that the mistakes don't define who they are. The solutions do. There's always a solution if you look hard enough.
Patience is an undervalued virtue. Don't rush. When starting your own enterprise you still have a lot of learning to do. In fact you never stop learning.  While you shouldn't be afraid to make mistakes, learning by making mistakes is not the most efficient method of learning. It's more effective to learn from people who have actually started their own company and have already made some of the mistakes you would inevitably make on your own.
The most successful entrepreneurs are often the ones that have failed the most, surrounded themselves with role models and implemented a long-term strategy.  Most importantly, they never stop learning and are receptive to pivoting if the outcomes prove beneficial to do so.
So as Entrepreneur in Residence what have I learned from the class of 2017/18?  You can't teach someone to take a risk, however you can teach someone to measure risk and make informed decisions.  You can't teach someone innovation, however you can teach someone to see a world of opportunity and abundance in which to innovate.
What the University of Canterbury Centre for Entrepreneurship brings together is a cohort of highly motivated students. What it leaves is a legacy of budding entrepreneurs, with the skills to harness their unbridled enthusiasm, monetise their innovative ideas and take on any market in the world with the confidence and focus of a global citizen.
For more information about the UC Centre for Entrepreneurship, please contact the UCE Business Manager, Mr James Carr. Phone:  +6433692965, james.carr@canterbury.ac.nz.
Graham Dockrill is an internationally recognised thought leader and keynote speaker. His passion for entrepreneurship and start-ups, coupled with his considerable skills and experience, sees him adding value to businesses in the UK, USA and Australasia. Graham is the 2017/18 Entrepreneur in Residence at the University of Canterbury's Centre for Entrepreneurship.